Make a difference with just £3 a month
With thousands of stray and abandoned dogs in Greek shelters, we really need your help. We don't receive any government funding and we are totally dependent on the generosity of people like you. For as little as £3 per month you can help us make a huge difference, and we will ensure that the Greek dogs and cats get a second chance for a happy life.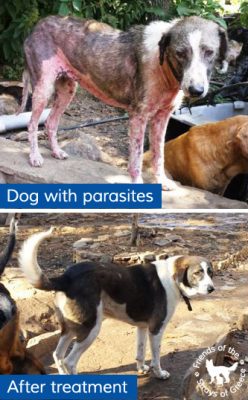 Just imagine to give up a takeaway a month, your glossy magazines each week, your daily coffee and cake routine or a packet or two of cigarettes you could help give that money instead to help pay for much needed medication, food and a safe place to keep our canine friends… so much more satisfying than any of the above?!
Sponsor the stray Greek cats and dogs and in return you'll receive:
Newsletters via post or email
Certificate with your name on
Mini poster on reverse of certificate
1 x sticker
1 x magnet with your choice of cats / dogs
What is sponsorship?
It means you are donating to us monthly via standing order and receiving something in return. You can donate any amount to us, but to receive the pack it must be a minimum of £3 per month, for at least one year, please.
How do I sponsor?
Please print out this Standing Order Form (click to download and print off)
Fill in your bank details and the details of who the sponsorship pack is for (yourself or a gift to someone)
Post it to the address on the bottom of the form.
Can I buy sponsorship as a gift for someone else?
Yes you can! If you'd prefer to buy the Sponsorship pack as a one-off instead of paying monthly, you can pay via PayPal, cash, cheque, or bank transfer. Please note a minimum of £25 is required as a one-off donation to receive the sponsorship pack. Please let us know when donating that you wish to receive a pack.
How else can I donate other than via Standing Order?
Please see our How to Help page for more information on payment methods, many thanks.
Every single donation makes a difference! Here is how your donations help…
£5 – a dog tick prevention treatment which will last one month
£10 – vaccinates  a cat
£15 – complete puppy vaccination
£20 – a complete dog parasite treatment which lasts 3 months (it's fantastic!)
£40 – spays a cat
£60 – castrates a dog
£90 – buys a new kennel
£100 – spays a bitch
£200 – feeds and vaccinates a dog for a year
---