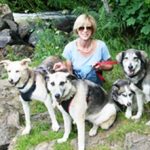 For information on available dogs/cats please fill out the contact form and Lyn will give you a call for a friendly chat.
You can also contact us for advice about a stray you have previously adopted from us, or other questions or comments you may have, via the form or information below.
If you are in Greece and worried about an animal, please read our "Advice for Tourists" page.
Telephone: 01647 24378
Address: Clifford Cross Cottage, Drewsteignton, Exeter EX6 6QD
Email: [email protected]
Adopting an animal
All our dogs are prepared in conjunction with the Pets Travel Scheme and have carried out their quarantine period in Greece. This means that they are able to enter the UK and go straight to their new homes. We do not home where all family members are in full time employment and we also require a secure garden with, in most circumstances, a surrounding 6ft fence.
Visit our charity shop in Bournemouth "Reigning Cats and Dogs"

333-335 Charminster Rd, Bournemouth BH8 9QR