Contact us – For adoption enquiries please fill out the questionnaire
For dog/cat adoption enquiries please first email a resume of your family situation and then Lyn will contact you. When requested to do so, please complete this

Pre-Adoption Questionnaire Lyn's email is:  [email protected].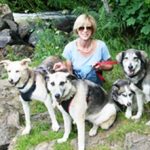 Please complete the questionnaire to the best of your ability – it's important to just say if you don't know how to answer some of the questions. It is best that we are aware of your level of experience as it helps us to guide you in your choice of dog. Some adopters have more experience than others so please DO NOT copy answers from websites as this falsifies your application and could result in our choosing an inappropriate dog. Thank you.
If you are in Greece and worried about an animal, please read our "Advice for Tourists" page.
Telephone: 01647 24378
Email: [email protected]
Address: Clifford Cross Cottage, Drewsteignton, Exeter EX6 6QD
Adopting an animal
We do not home where all family members are in full time employment and we also require a secure garden.