I LOVE My Dog Show 14-28 February 2022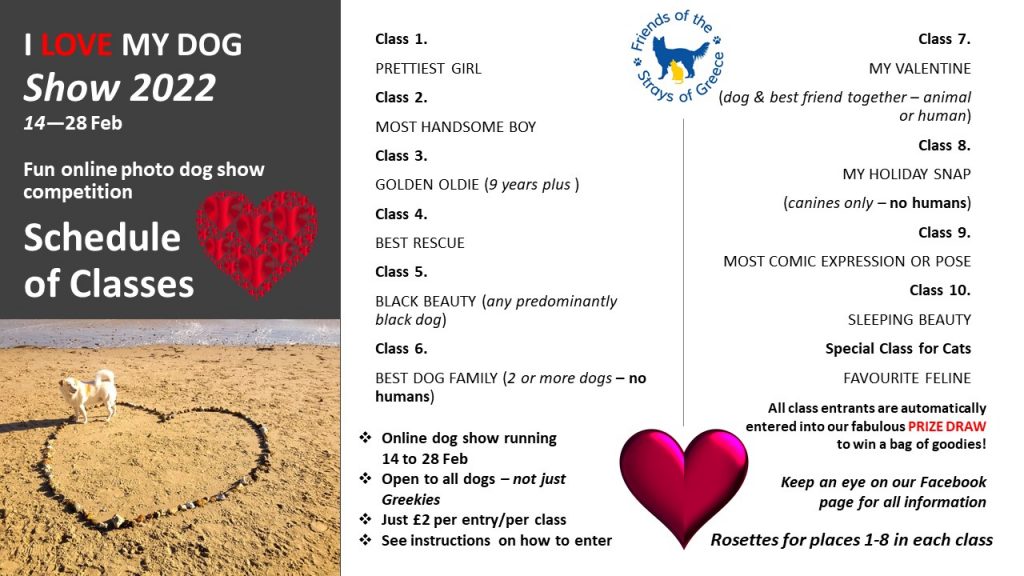 Open to ALL dogs, not just Greekies … plus a special class for cats!
Our 2022 online I LOVE My Dog Show will run from 14 February until midnight on 28 February 2022 via photo entries (no video clips).
There are 10 dog classes to enter – see Schedule of Classes – at £2 per class. There is an additional Special Class for cats!
Please make photos as clear as possible so that the judges can easier view your dog's attributes. The judges want to get a feel for charm and personality, good looks or funny ways.
To submit photos – email photos (one per class per dog) to Marie at:  [email protected] noting your name, name and age of your dog, stating which class each photo is to be entered. Please state clearly the number and name of the relevant class(es) with each photo.
Each photo should feature only the dog that is entered (and no humans) for that class. [Exceptions are for Class 6 (two or more dogs), Class 7 (additional friend – human or animal) and the Special Class for cats (one or more cats may be entered together).]
Receipt of photos will be confirmed by email within 48 hours. Please message if you haven't received confirmation.
I LOVE My Dog Show is open to all dogs, not just Greekies.
Entry assumes consent to photos being shared on our Facebook page.
Payment for classes – £2 per class. Payment options will be confirmed on submission of photos.
Judging should be completed by 7 March. Winners will be the judges' personal choices, not based on any criteria other than the class requirements.
Rosettes to 8th place in every class. Winners in each class will be contacted.
The winning dogs/cats in each class will be included in the I LOVE My Dog Show 2022 album on our Facebook page.
!! PRIZE DRAW !! Entry to the Show means automatic entry into our fabulous prize draw to win a bag of goodies for you and your furry friends (UK postage only).
Good luck everyone!