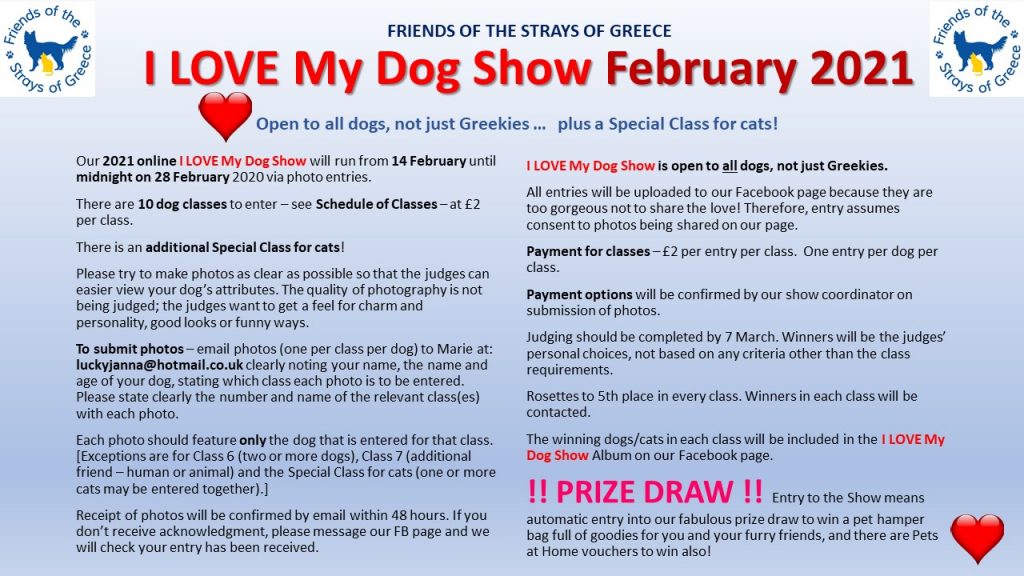 DOG SHOW 2021 14-28 FEBRUARY
This year's online dog show
I LOVE My Dog Show
is running from Sunday 14 February to 28 February. Here's how to enter.
There are 10 dog classes and an extra class for cats:
Class 1. PRETTIEST GIRL
Class 2. MOST HANDSOME BOY
Class 3. GOLDEN OLDIE (9 years plus )
Class 4. BEST RESCUE
Class 5. BLACK BEAUTY (any black/ predominantly black dog)
Class 6. BEST DOG FAMILY (2 or more dogs)
Class 7. MY VALENTINE (dog & best friend together)
Class 8. POOCH'S PLAYTIME
Class 9. MOST COMIC EXPRESSION OR POSE
Class 10. SLEEPING BEAUTY
Special Class FAVOURITE FELINE (for the cat/s in your life)
Entry to
I LOVE My Dog Show
means automatic entry to our
Prize Draw
to win an amazing pet hamper bag or Pets at Home vouchers!