CRISIS IN GREECE FEBRUARY 2022
Crisis in Greece
We generally try to keep our posts quite 'light' and, perhaps, protect our supporters from the reality of some of the situations that we discover and deal with.  Over the many years of involvement, we always hope that the situation is improving but the last few weeks have been particularly challenging and we wonder where it's all going.
The Greek government are always keen to pass laws regarding animal welfare but we have to wonder who is going to implement them.  This week's announcement is no exception and it has resulted in crisis for many shelters because there has been mass abandonment of dogs in particular.  Just one shelter which we support had 17 starved hunting dogs dumped outside on ONE day and, over a 3 day period, 35 unwanted puppies.  We are posting the details of the laws which we hope you will read and make your own judgement as to their effectiveness.
Coincidental with the implementation of the new 'animal welfare' laws, the deputy mayor of Sparta was arrested for serious animal abuse at two of the Municipal shelters.  The Greek group Save a Greek Stray discovered and photographed the horrific conditions that the dogs were kept in and, although they removed 44 very sick dogs which they took to their shelter in Athens, another 400 remain.  These dogs are, however, now being cared for and we intend to support them as best we can.
However, we are currently receiving requests for support from all over Greece as, like here, the cost of living is rising on a daily basis and our colleagues can't afford to feed their animals.  Even the price of pasta, on which many survive, increased by over 60 percent in one day.  THIS IS A VERY SERIOUS SITUATION AND WE ASK FOR YOUR SUPPORT PLEASE.
The Greek Parliament approved a new law on pet ownership on Wednesday, which PM Kyriakos Mitsotakis said will create rules so that no animal "will be abandoned, or abused."
"Greece is changing and is finally adopting a modern legal framework for the protection of pets," Mitsotakis tweeted before the vote in Parliament.
Last April, Mitsotakis adopted a stray dog and he has since been championing the cause of abandoned pets. "Peanut came into our lives! He chose us when two weeks ago we visited the Ilioupoli Animal Welfare Association on the occasion of the International Day of Stray Animals. Open your arms and save a stray!" he wrote in a post at the time.
Peanut awaits the arrival of PM Mitsotakis. Credit: Instagram/Mitsotakis
Mitsotakis followed the example set by Greece's President Katerina Sakellaropoulou who officially adopted a stray kitten named Calypso from the island of Karpathos, making the tiny feline the very first stray cat ever adopted by a Greek President while in office.
The new law stipulates that pet abuse will carry stricter fines and will now include acts such as abandonment, shooting, intentional injury and poisoning.
Other provisions include:
Records of people who have been sentenced for torturing animals will be entered into a database managed by the Athens prosecutor's office and be cross-referenced with the Pet Registry so that they may not register as pet owners in the future.
A pet DNA analysis and storage bank is also being set up, so that if an animal is abandoned the owner can be easily located and be penalized accordingly.
The leading change brought along by the new bill is the new digital health book for all pets, which will include a full medical history and will be accessible by both owners and veterinarians.
Banning cat and dog sales at pet shops, together with a ban on mating advertorials: the fine for publishing a mating ad will be more than tripled when not referencing the pet's unique ID microchip number and the new reproduction license.
The sale of pets will only be allowed by approved breeders and owners. Pet adoption fees will be forbidden, except for transportation and medical treatment costs.
New rules are introduced for breeding as well: owners will be licensed for one litter per pet, while prospective owners of offspring will have to be officially registered.
Neutering will become mandatory for all owners, with some medical exceptions. Approved licensed breeders will be fined 2,000 euros if they mate a single animal more than six times. Amateur (so-called 'back yard') breeders will also be subjected to several new restrictive rules.
Neutering should be done within six months of the pet's acquisition if the animal is more than one year old. In case of acquisition of an animal less than one year old, neutering takes place within the first six months after the completion of the first year. This deadline may vary depending on the breed of the animal and other specific characteristics, after a thorough veterinarian opinion.
Neutering is not mandatory for animals for which a sample of their genetic material (DNA) has been sent to the Laboratory for Conservation and Analysis of Pet Material Genetic Material.
In case the animal owner does not sterilize his pet or does not send in a DNA sample, a fine of 1,000 euros will be imposed and the owner will be given a three-month period to sterilize or send a sample of the animal's genetic material. In the event that this deadline also passes without action, the fine will be imposed again.
Finally, a new National Pet Registry will be introduced, where all pets, either owned or stray, will have to be registered, including pets put up for adoption. Animal welfare associations, vets, breeders and animal shelters will all have to register too.
In order to encourage owners to take better care of their pets, the bill introduces incentives by municipalities, such as a reduction in city taxes by up to 10 percent.
Deputy mayor of Sparta arrested in animal cruelty probe
[Save a Greek Stray/Faceboo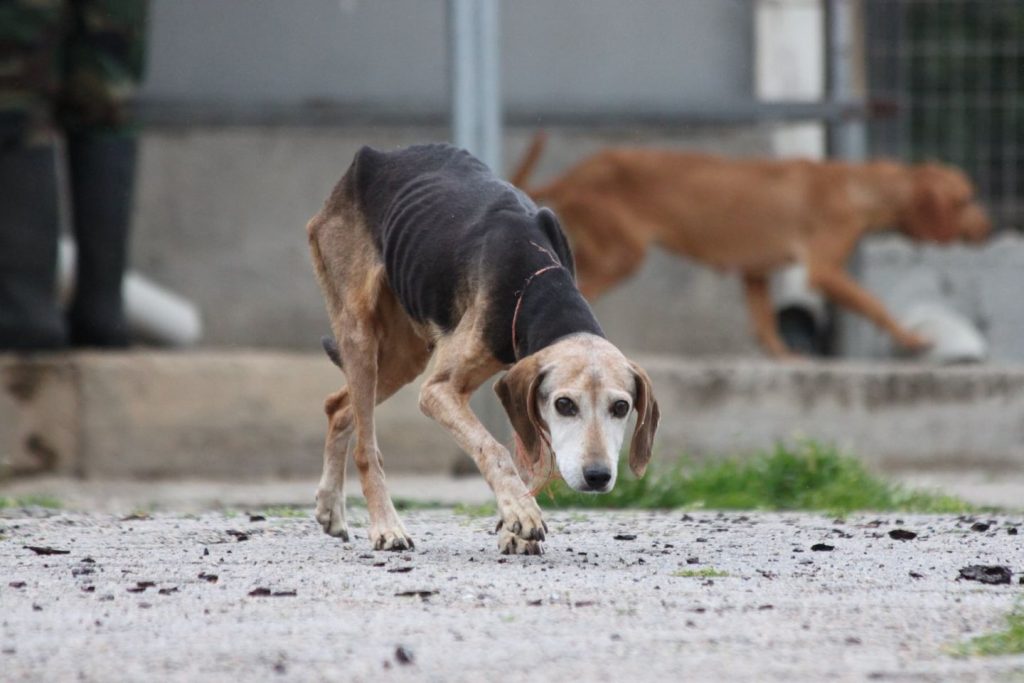 Police in the eastern Peloponnesian city of Sparta have arrested a deputy mayor as part of an investigation into allegations of animal cruelty and neglect at two municipal kennels in the city.
Police also arrested two other people in addition to the deputy mayor, who is a former police officer.
Commenting on the allegations of animal cruelty at the pounds, Civil Protection Minister Takis Theodorikakos said that stray animals deserve the respect of all civilized people, especially the competent authorities. The law is the law and must be obeyed by all, he added.
The police investigation into conditions at the pound followed the filing of a lawsuit by a stray rights and rescue organization over what it described as the inhumane treatment of dozens of dogs.
The suit was accompanied by witness statements and a series of photographs taken by a team from the Save a Greek Stray, a non-governmental organization, during a visit to the site over the weekend.
The team reported seeing the dogs in the pound's care in an emaciated condition, showing signs of distress and acute illness, chained in small, dirty enclosures.
It also reported seeing at least one dog lying dead at the end of a chain.
Accusing the municipal authority of "criminal negligence," Save a Greek Stray also requested that all the sick and dying animals be surrendered to its care.