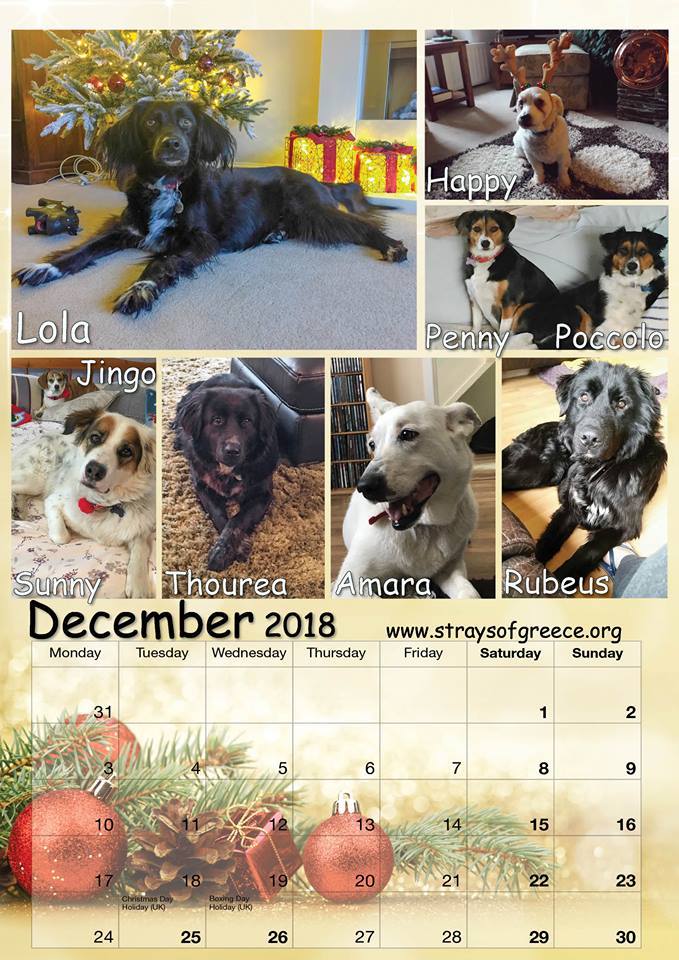 Calendar Competition 2019
FRIENDS OF THE STRAYS OF GREECE CALENDAR 2019 COMPETITION
We are delighted to announce that Liz and Steve Grayston have kindly offered to produce a 2019 Calendar for the Charity and would ask everybody who has adopted a Friends of the Strays of Greece dog/s or cat to enter a free photo competition so that your dog/s or cat has the opportunity to become one of the main 12 pictures in the calendar. You can enter a maximum of 20 photographs per dog or cat and you have from now until the deadline of Sunday 20th May 2018 to submit your photos.
REMEMBER THAT THE PHOTOGRAPHS SHOULD BE OF THE BEST POSSIBLE QUALITY AND IT IS MOST IMPORTANT THAT THEY ARE NOT CROPPED. IT IS ALSO IMPORTANT THAT THEY ARE OF YOUR CAT OR DOG ONLY AND DON'T INCLUDE PEOPLE.
PLEASE SEND ALL YOUR PHOTOGRAPHS, INCLUDING YOUR NAME AND THAT OF YOUR DOG/CAT, TO LIZ AT THE FOLLOWING EMAIL ADDRESS BY SUNDAY 20TH MAY: [email protected]
When the photos have all been received, we will ask five independent judges to choose their 15 favourite photos. Their choices will then go forward to an independent final judge who will choose his/her final 12 photos plus one reserve – these will become the 12 months of the year in the calendar. Finally, after the 12 months of the year have been chosen the 72 x £5 squares will go on sale. This guarantees your dog or cat appears in the calendar, and it also helps towards the printing costs.
We are really looking forward to seeing all your photos and would love some spring, summer, autumn, snow, Christmas and Easter entries. So, please get snapping and uploading so next year's calendar is as wonderful as this year's! Many thanks.